On June 12, 2020, the MNCBG launched a fundraiser to support small business rebuilding efforts in the Twin Cities as well as an organization fostering a more diverse and inclusive craft beer industry in Minnesota. All donations were to be divided equally among:
Brewing Change Collaborative
WBC + Northside Funders Group
Lake Street Council
Neighbors United Funding Collaborative*
This was the first time the MNCBG has tried to raise funds for an external cause; our initial goal was to raise $500. To help us meet this goal, the Guild reached out to our Allied Trade Members and Sponsors to seek contributions to this effort, and promoted the fundraiser to the general public as well as our member breweries. The Guild also donated 100% of our proceeds from June sales in our shop.
The response from our community was amazing! Allied Trade Members Minnesota Brewery Running Series and BSG Craftbrewing both offered to provide $500 matching pledges to our fundraiser. Breweries and individuals from around the state contributed too, and we sold more online merchandise in the month of June than in any other month in memory!
With your donations, and the matching pledges from Minnesota Brewery Running Series and BSG Craftbrewing, we raised $2,300, and added an additional $560 from our shop proceeds, for a total of $2,860 raised!
We are constantly inspired by the generosity of Minnesota's craft beer community. Thank you again to everyone who contributed to this fundraising effort! Donations were divided equally among the recipients and dispersed to these organizations by July 13, 2020.
*NOTE: Between the launch and conclusion of our fundraiser, Neighbors United Funding Collaborative met their fundraising goal and did not wish to accept our donation. Their portion of funds raised was divided equally among the remaining three organizations.
For July…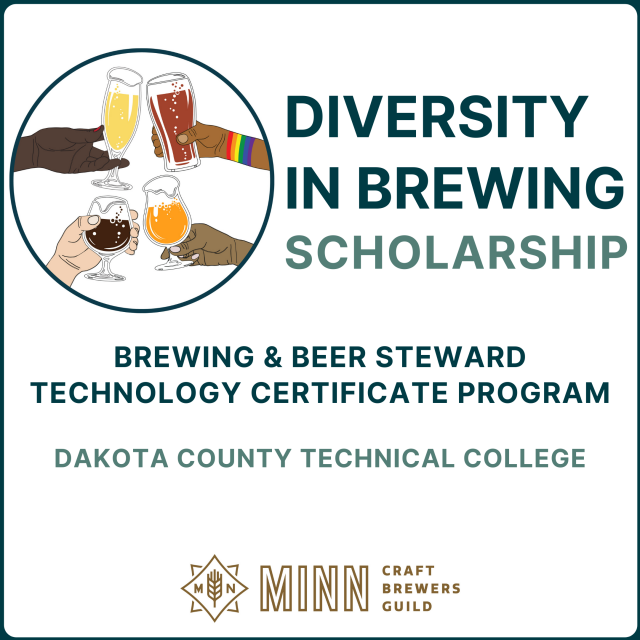 You may have seen that the MNCBG is donating all July proceeds from our shop too! These funds will be used to support our Diversity in Brewing Scholarship Fund.
Last fall, the MNCBG established our Diversity In Brewing scholarships at the Dakota County Technical College for their Brewing and Beer Steward Technology Certificate Program.
The goal of these scholarships are twofold:
To support the educational goals of people who are currently under-represented in our industry by eliminating financial barriers, and
To actively contribute to a brewing industry that better reflects the diversity of our state
Diversity In Brewing scholarships will be open to women, people of color, LGBTQ and non-binary people, and people from the disabled community. Prospective students interested in applying for the program/scholarship can do so here. 
We are raising funds for these scholarships on an ongoing basis. There are two ways you can help support the fund and future recipients: individuals and businesses can make a donation to the fund on our website at any time, OR you can order anything from our shop in July and all proceeds will be donated to the scholarship fund! Thank you to those craft breweries and individuals who have already made generous donations to this fund!